5th March 2018
National Apprentice Week - An Interview with Harrison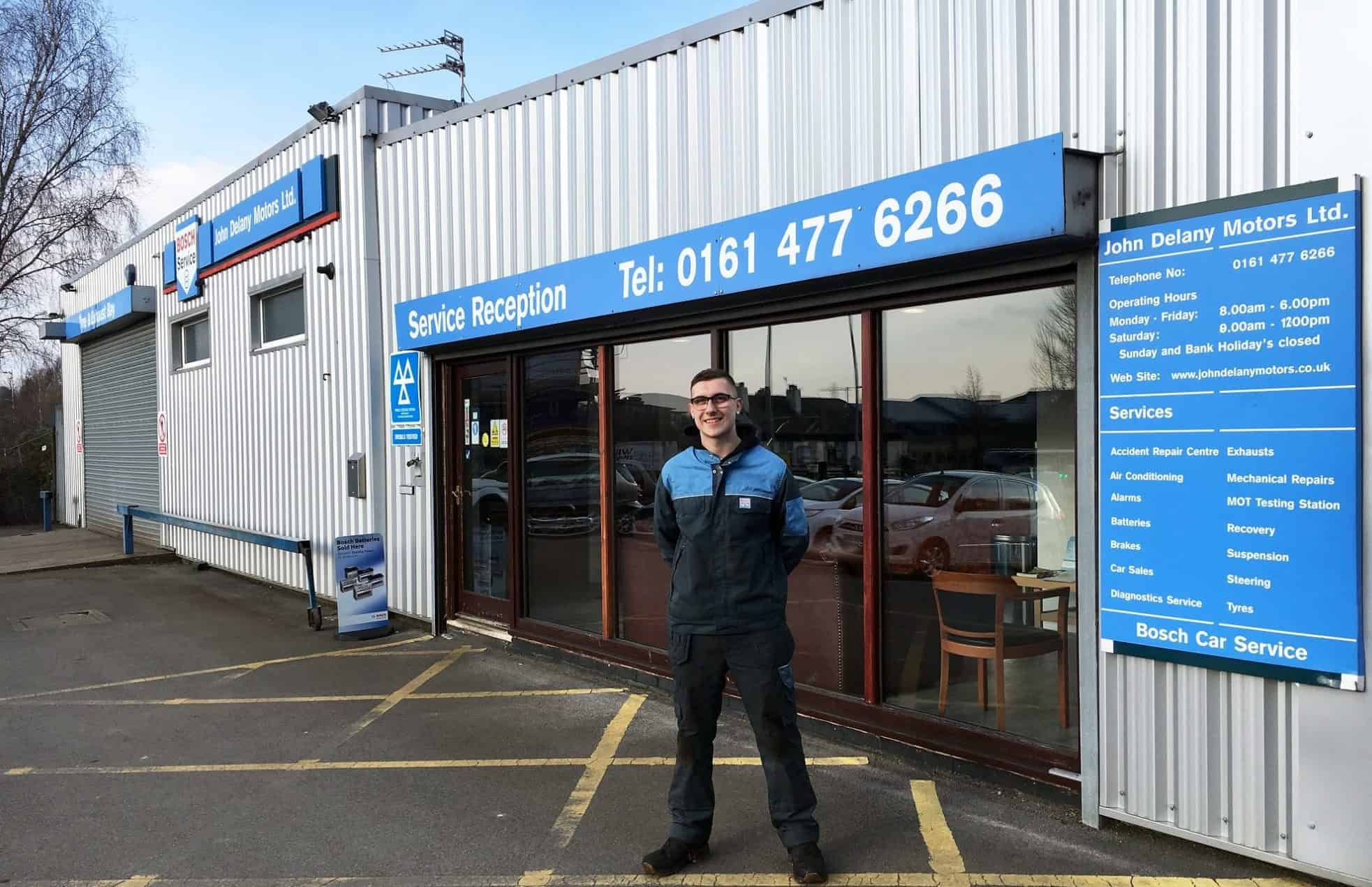 We believe that working with apprentices is a productive way for us to develop a motivated and skilled workforce. Apprenticeships allow hands-on experience for students who are looking to further their knowledge. Once our apprentices are fully qualified they can then go on to further training through the Bosch Car Service training programme.
Harrison is studying the Apprenticeship in Motor Vehicle Maintenance course at Stockport College. As part of his course he's been working at John Delany Motors for almost a year.
Anthony, our manager says "Having hands on training in the workplace allows us to train people to our company's way of working. Harrison is a very valuable member of our team, he's progressed quickly on his apprenticeship and is keen to learn."
Harrison was eager to tell us more about his apprenticeship…
Stephen Morris, Harrison's Motors Vehicle Training Assessor from Stockport College said "Harrison is currently working towards his Level 2 Apprenticeship in Light Vehicle Maintenance and Repair, this is normally a 2 year course but we have agreed to fast track Harrison to complete in 1 year, he is already 73% complete.
The reason Harrison is doing so well is each time I visit him in the workplace he is carrying out suitable work for assessment and he is keeping a good record of his work and supplying job cards. He is also getting good support from his employer and colleagues. I find with Harrison I only need to ask him once and he does the work."
To read more about the apprenticeship courses available at Stockport College click here.
The Apprenticeships Store, Stockport is a great way to find out more about apprenticeships, whether you're a young person looking for an apprenticeship or a business looking for advice click here.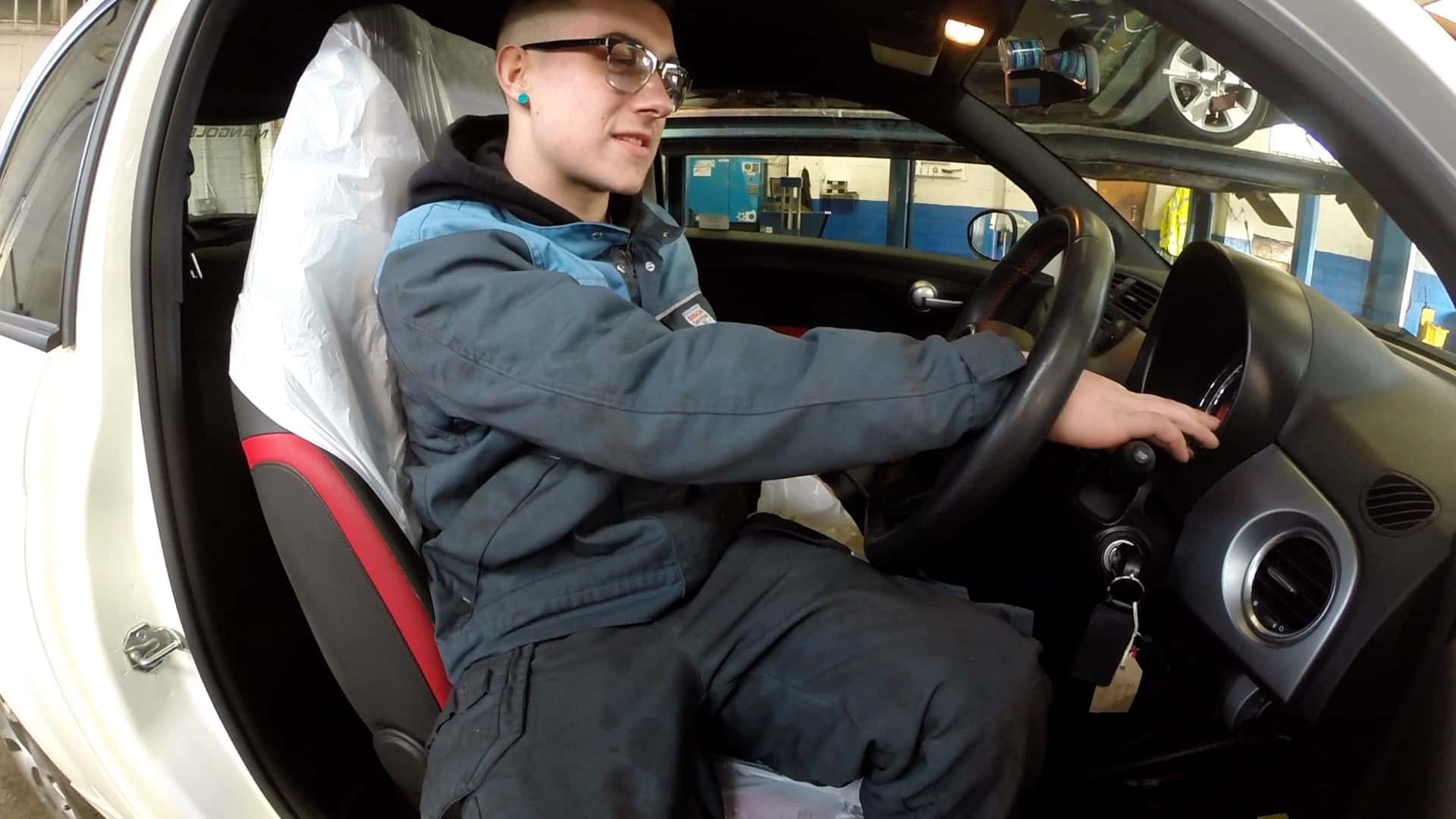 You can also read the full interview with Harrison below:
Harrison, we want to get a better understanding of what's involved in your apprenticeship. We've got some questions about your time in the workshop and classroom.
Fire away!
When did you start your apprenticeship?
I started at college about 3 years ago doing level 1 & 2, full time at college. Then roughly about a year ago I started here on my level 2 apprenticeship.
Why did you want to be a vehicle technician?
Since I've been young I've been interested in cars and I've known a lot of people that used to be mechanics. It's always interested me.
Where are you studying?
At Stockport College, they merged with Tameside but I still go to Stockport College.
So, you're level 2 at the moment, how long have you got left?
I've fast-tracked on my apprenticeship until September, then I'll start on my level 3 apprenticeship, be finishing around 2020 and be a fully qualified mechanic.
What topics do you cover on the course?
We cover a lot of servicing, brakes, chassis components and some engine work.
Is it all classroom based or are you in a workshop as well?
At the moment being fast-tracked I'm all work-based hands on until next year on my level 3 apprenticeship when it'll be one day in a classroom.
Is there any paperwork involved in the course?
There's a bit of paperwork but not a lot, I have to relay job cards to my tutor back at Stockport College and I've heard that in level 3 I'll have to do quite a bit more.
Why did you want to work at John Delany Motors?
At college they gave me the opportunity to join an apprenticeship, they offered at John Delany's and I jumped straight on the opportunity and asked for an interview as soon as possible.
What've you gained so far from working here?
I've gained knowledge, confidence; you could say I've made friends.
Do you work with other technicians or by yourself?
It depends on the jobs that I'm doing, I'll be doing servicing on my own, brakes on my own but big jobs such as clutches and drive lines I'll be working with other technicians shadowing them.
What are your favourite jobs to do?
My favourite jobs are probably doing brakes because everything is different; it's a variety of jobs.
Do you think that hands on experience in the workshop has benefited you?
I definitely think that hands on working has benefited me, definitely. It's really gained my confidence and helped me understand what I've learnt.
What advice would you give to anyone thinking of doing an apprenticeship?
Probably to jump on an apprenticeship as soon as they can to gain the experience in the workshop and really develop their skills.
Have you got your own toolbox?
Yeah, I've got my own toolbox. I use other people's tools when I haven't got my own.
What's your favourite tool? What could you not live without?
My ratchet
Where do you see yourself in 5 years' time?
Hopefully a fully qualified mechanic and then onto the Bosch courses and pass as many as Steve.
Steve, you used to be an apprentice, when did you qualify?
I qualified in 2009 and carried on further education through Bosch Training Services.
You work with Harrison quite a lot, how do you find him as an apprentice?
He's good; he's learning quickly and listens to what I have to say to him. He's doing well.
Harrison, thanks for answering all of our questions, we wish you the best of luck in your apprenticeship.
Thanks.
---