22nd October 2018
Help us to support The Wellspring Stockport
The Wellspring Stockport Rucksack Project
This Winter we're supporting The Wellspring Stockport in their Rucksack Project.
We're looking for as many people as possible to go to charity shops or rummage through their wardrobes, get a rucksack, sleeping bag, gloves, hat, fleece, undies, socks and food together and drop them with us at John Delany Motors.
These rucksack packs will be delivered to the Wellspring and distributed to homeless people and rough sleepers in Stockport. The items do not need to be new- second hand unused items from your wardrobe or charity shops are ideal.
If you're able to donate a filled rucksack- that's great! We're also taking donations of all of the below items as we'll putting rucksacks together too. So no need to spend too much, donate a few items and we'll donate the rest.

John Delany Motors is an ideal drop off point for the items with a large car park and easy access to the motorway. In a bid to fill our whole back office with packed rucksacks we're offering a 10% off voucher to spend at John Delany Motors to every person who donates items for this cause and drops them off with us.
We will be taking all of the items over to the Wellspring on 2nd December and volunteering with the packing and distributing of the filled rucksacks so please drop anything off before this date.
For more information on the Wellspring and what they do to support Stockport's homeless people and rough sleepers follow this link.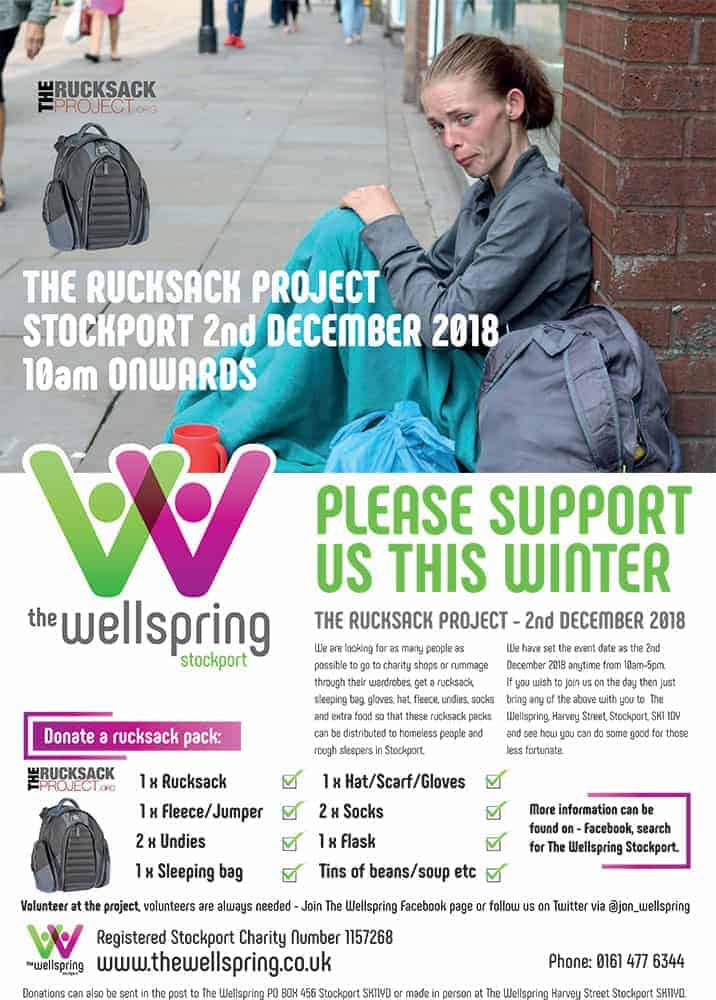 ---