13th November 2019
Josh & Stuart celebrate 13 years
This week two of our technicians Josh Ridgway & Stuart Fox celebrated their work anniversaries at John Delany Motors. With 13 combined years between them, we thought it was time you got to know them.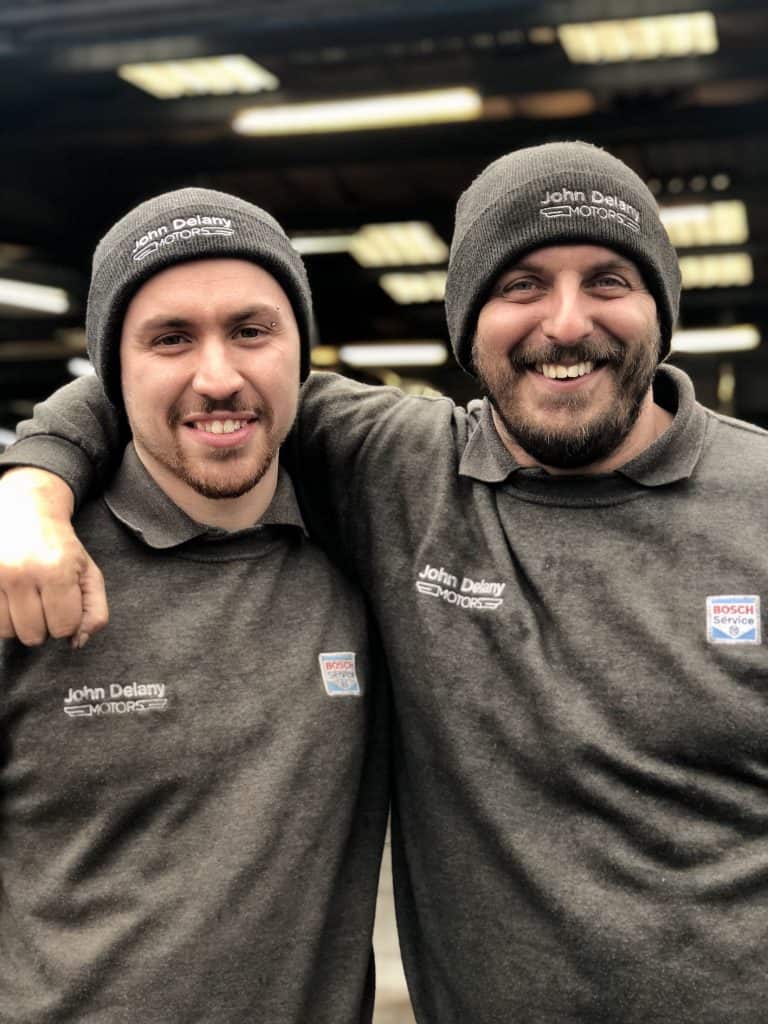 Nickname:
Stuart – Foxy
Josh – Ridg
How long have you been working at John Delany Motors?
Stuart – 7 years
Josh – 6 years
Quickly sum up a day in the life of a Vehicle Technician…
Stuart – Lots of variety, with fun and banter added in for a happy working environment
Josh – A bit of everything!
What would you be doing if you didn't work at John Delany Motors?
Stuart – Anything driving related, probably a HGV driver
Josh – Modifying, Tuning & Re-mapping engines
Describe your dream holiday?
Stuart – Swimming with the pigs at Pig Beach, The Bahamas
Josh – Relaxing and chilling in Florida

Favourite food?
Stuart – Being Italian it has to be Pepperoni Pizza
Josh – Nandos' Chicken Burger – with medium piri piri

First car?
Stuart – A burnt orange Vauxhall Nova Saloon
Josh – VW Lupo
Talk us through your perfect Sunday…
Stuart – Lie in followed by a Full English Breakfast, then watching the Premiership with a couple of beers and finish off with a Sunday Roast
Josh – Stay in bed all day
Describe yourself in 3 words…
Stuart – Happy, Easy-going and Sociable
Josh – Quiet, Contented & Hard Working

What's your go-to karaoke song?
Stuart – I don't do karaoke, at all
Josh – Same, I don't do karaoke, at all
If you could have a superpower, what would it be?
Stuart – To be able to look into the future
Josh – To be able to fly
If you were stuck on a desert island what three things would you bring?
Stuart – Wife, Daughter and a photograph of Lily my Dalmatian dog.
Josh – Strawberry & Lime Kopparberg, Nandos & a Boat
What would people never guess you do in your role?
Stuart – Work…..just joking
Josh – That I get asked to fix hoovers (one customer was a bit confused about us being a 'Bosch' service center).
What's the one TV show you never miss?
Stuart – Match of The Day
Josh – Power
Your favourite band?
Stuart – Faithless, and I'm looking forward to watching Tokio Myers in Leeds this month
Josh – Various from Dance, RnB to Old Skool
Your favourite football team?
Stuart – Manchester City & Stockport County
Josh – Don't follow football
What's your chosen midnight snack?
Stuart – Crumpets with melted cheese and black pepper
Josh – Krispy Kreme
Who is the coolest celebrity you've ever met?
Stuart – Stockport County Manager – Jim Gannon
Josh – John Delany
What's your dream car?
Stuart – Any model of Lamborghini
Josh – Dodge Demon
What do you like to do in your spare time?
Stuart – I like eating out at The Last Monsoon in Stockport and Hickories in Poynton. I also like visiting Cale Green Park and Bramhall Park in Stockport
Josh – I love watching Motor Sports at Donnington and Oulton Park and following British Super Bikes
Do you have any annoying habits?
Stuart – Yes, biting my nails
Josh – Probably loads but I'm not aware
---