1st April 2019
Vehicle Servicing - Your Questions Answered
There are many service options available for your vehicle, it's important that you select the right one. So what happens in a vehicle service? Which service is right for your car? And how often should you get your vehicle serviced?
At John Delany Motors we mainly offer three types of servicing; manufacturers, interim and full. Most vehicle manufacturers recommend that you have your service carried out once a year and each year the service type may differ.



Manufacturers Service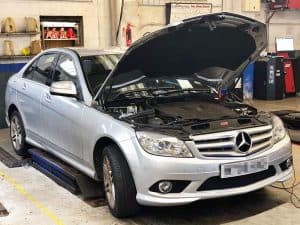 If you're keen to follow the manufacturer's service schedule this is the service for you.
It's a common myth that you have to get your vehicle serviced at the main dealership to remain in warranty. The block exemption law means that service schedules for all vehicles are available to independent garages allowing us to offer a genuine service where your vehicle remains in warranty and your service record is updated, either digitally as a stamp in your service book.
The manufacturer's service differs for each make and model of vehicle and the service schedule depends on the mileage and age of the vehicle.
We will service your vehicle to mileage or age requirements as specified by the vehicle manufacturer. Meaning that we will check and replace the items required by the manufacturer. This service does not affect your warranty and is exactly as your main dealer provides- the difference is, in some cases, we can save you as much as 50% on cost.
If you aren't going by the manufacturer's service schedule we recommend that you have your vehicle serviced once a year alternating between an interim and full service, again depending on mileage.
Interim Service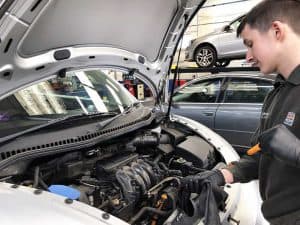 The interim service usually takes around 1- 1.5 hours to complete. We start by checking your vehicles lights, wipers, and washers. We then change the engine oil and filter and carry out a full safety and function check topping up levels where required.
We lube hinges then send your vehicle up on a ramp to check the underside for wear in steering joints, wheel bearings, suspension springs, brake pipes, and exhaust. We also check for any leaks.
Where visible, the condition of the brake pads and discs are inspected. Tyre conditions are checked and we re-set tyre pressures.
Wheels are not removed during an interim service.



Full or Major Service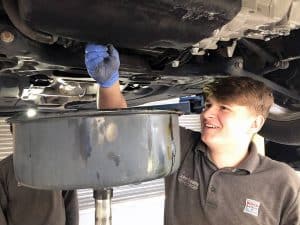 The full service usually takes around 2- 3 hours dependant on the vehicle. We carry out the same processes as the interim service and also replace the following items:
– Pollen filter (where applicable)
– Air Filter
– Fuel Filter (every time on a diesel and at intervals on a petrol)
– Spark Plugs (when applicable according to service life)
– Cam/timing belts (advised at correct intervals)
We check and clean hub, flanges, and mounting surfaces. Check gearbox fluid level manual/automatic differential and check condition of auxillary belts. We also remove wheels allowing us to do a thorough inspection of the brakes and remove brake drums (when applicable) and adjust brake shoes.




FAQ'S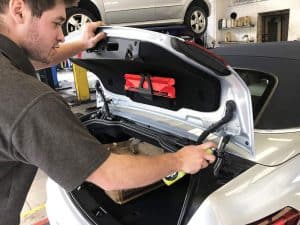 How do I choose which service my vehicle needs?
We recommend that you stick to manufacturers servicing for at least the first 3 years of your vehicles life. Ideally you'd carry out manufacturers services for the lifetime of the vehicle, but as vehicles get older services can be forgotten or mileage and age doesn't marry up with the manufacturers recommended schedules.
This is where interim and full services come in to play. Interim and full services are performed alternately, once a year. We can look into your service history to see what has been done previously and advise you from there. If your previous service was not carried out with us and you don't have any service history we recommend a full service, and an interim service the following year.
What happens if I miss a service?
If you realise that you have missed a service it's advisable that you have your service carried out as soon as is convenient.
Amongst other things, a missed service can cause major problems with your oil which is only supposed to last for a certain period of time. If the service is overdue, old oil can cause major and expensive engine problems.
How do I check my vehicles' service history?

Your vehicles' service history should either be detailed in your service book or on your digital service record. Vehicles manufactured after a certain date have online digital service records which the owner can access and John Delany Motors can update for you. With some brands we can read your dash to determine which service is due. If you can't find details of any previous servicing it's worth giving us a call so we can look into your history and determine which service would be best.
How do I know when my vehicles' service is due?
A lot of modern vehicles will notify you when your service is due, reminding you on your dashboard. We offer free service reminders, if you'd like us to notify you just let us know.
What is an Engine Oil Flush and does my vehicle need it?
We recommend an engine oil flush with every service. This cleans out deposits and sludge from the engine before adding the new oil.
How much does it cost for a service on my vehicle?
At John Delany Motors we tailor our services to the specific vehicle, age, mileage and service history. This means that we don't offer set-priced servicing and your service is customised for each individual vehicle meaning you will only pay for what is required. As honesty is so important to us, we quote our customers for all items before carrying out any work. We can also tailor services to customers individual budgets.
If you'd like a custom quote for a car servicing on your vehicle please contact us on 0161 477 6266 or at info@delany-motors.co.uk and provide us with your vehicle Registration, Make & Model, Mileage and any previous service history you have.



---